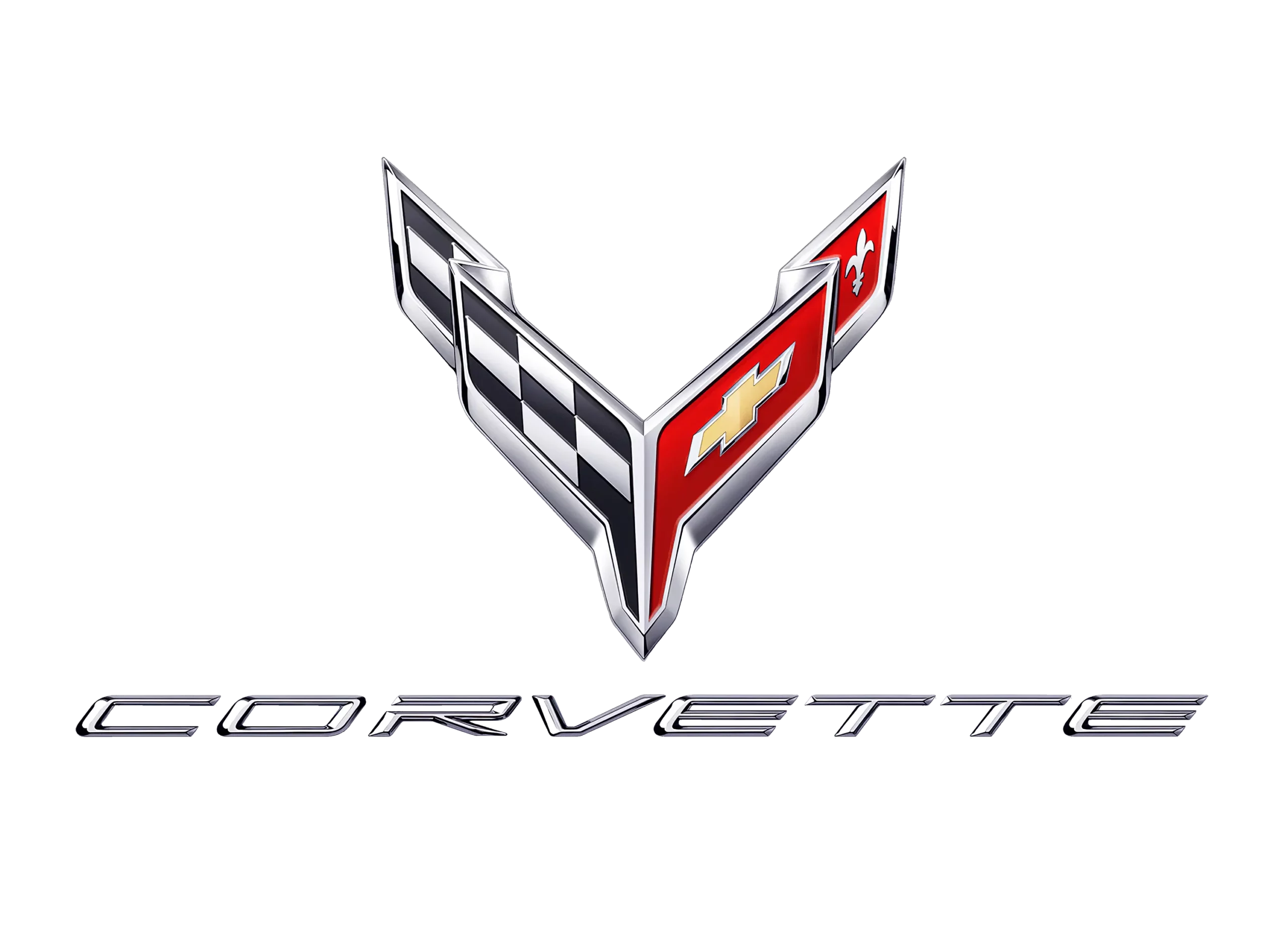 The Corvette logo has undergone several changes throughout its history, but the most recognizable and iconic version is the one introduced in 1953 and still in use today.
It features a stylized representation of a checkered racing flag, with a red border and a black and white checked pattern in the center. The flag is surrounded by a circle, which contains the word "Corvette" in bold, capital letters, with the first and last letters slightly elongated and stylized. The letters are silver or chrome-colored, depending on the application, and are set against a black background.
In newer logo the Flags are converted into the shape V.
In some variations, the flag is set against a red background, and the circle is omitted, with the word "Corvette" placed above or below the flag. In others, the flag is superimposed on a depiction of a Chevrolet bowtie, emphasizing the car's connection to the larger General Motors family.
Overall, the logo is clean, simple, and instantly recognizable, reflecting the Corvette's long-standing reputation as a sleek, powerful, and iconic American sports car.
Bowling Green Assembly, Kentucky, United States
Corvette is a sports car manufacturer that is part of the Chevrolet brand, which is owned by General Motors. The first Corvette sports car was produced in 1953, and since then, the brand has continued to innovate and produce high-performance vehicles that are sought after by car enthusiasts around the world.
Corvette's cars are primarily manufactured at three factories in St. Louis, Flint, and Bowling Green. The brand has released eight generations of cars, each with its unique design, technology, and performance capabilities.
In addition to producing sports cars, Corvette is also heavily involved in motorsports, with a history of racing and winning championships in various competitions, including the 24 Hours of Le Mans and the American Le Mans Series.
Overall, Corvette is a well-respected brand among car enthusiasts for its commitment to performance and innovation in the sports car market.
The Chevrolet Corvette is an American sports car that has become an icon in the automotive world. It has been produced by the Chevrolet division of General Motors since 1953, and is currently in its eighth generation. The Corvette has a rich history of performance, innovation, and design that has made it a beloved American sports car for decades.
The Corvette was first introduced as a concept car at the General Motors Motorama in 1953. It was designed by Harley Earl and named after a type of small, maneuverable warship called a corvette. The concept car was well-received, and General Motors decided to put it into production.
The first generation Corvette was introduced in 1953 and produced until 1962. It was a two-seater convertible with a fiberglass body and a six-cylinder engine. In 1955, a V8 engine was added, making it a true sports car. The first generation Corvette was also the first American car to have four-wheel disc brakes.
The second generation Corvette was introduced in 1963 and produced until 1967. It was known as the "Sting Ray" and had a completely redesigned body that was lower, wider, and more aggressive-looking than the first generation. It also had a new independent rear suspension and a range of V8 engines, including the legendary 427 cubic inch "big block."
The third generation Corvette was introduced in 1968 and produced until 1982. It had a more aerodynamic body with hidden headlights and a fastback roofline. It also had a new frame and suspension system, as well as a range of new engines.
The fourth generation Corvette was introduced in 1984 and produced until 1996. It had a more modern, streamlined body with a digital dashboard and advanced electronics. It also had a new aluminum frame and a range of engines that included a new LT1 V8.
The fifth generation Corvette was introduced in 1997 and produced until 2004. It had a more refined, European-inspired design and a new LS1 V8 engine that was more powerful and fuel-efficient than previous models.
The sixth generation Corvette was introduced in 2005 and produced until 2013. It had a more muscular, aggressive design and a new LS2 V8 engine that was even more powerful than the LS1. It also had advanced features like active suspension and magnetic ride control.
The seventh generation Corvette was introduced in 2014 and produced until 2019. It had a completely redesigned body with a more angular, aggressive look. It also had a new LT1 V8 engine that was more powerful and fuel-efficient than the previous generation. The seventh generation Corvette also marked the first time that the car was available with a mid-engine configuration.
The eighth generation Corvette was introduced in 2020 and is the current model. It has a mid-engine configuration and a new LT2 V8 engine that produces up to 495 horsepower. It also has a more refined, luxurious interior and advanced technology features.
The Corvette has been a symbol of American performance and innovation for over 60 years. It has inspired generations of car enthusiasts and has cemented its place in automotive history. With each new generation, the Corvette has continued to push the limits of what a sports car can be, and it shows no signs of slowing down anytime soon.
Corvette Logo 2019-present
Corvette logo changes over the years
Other logos from Corvette