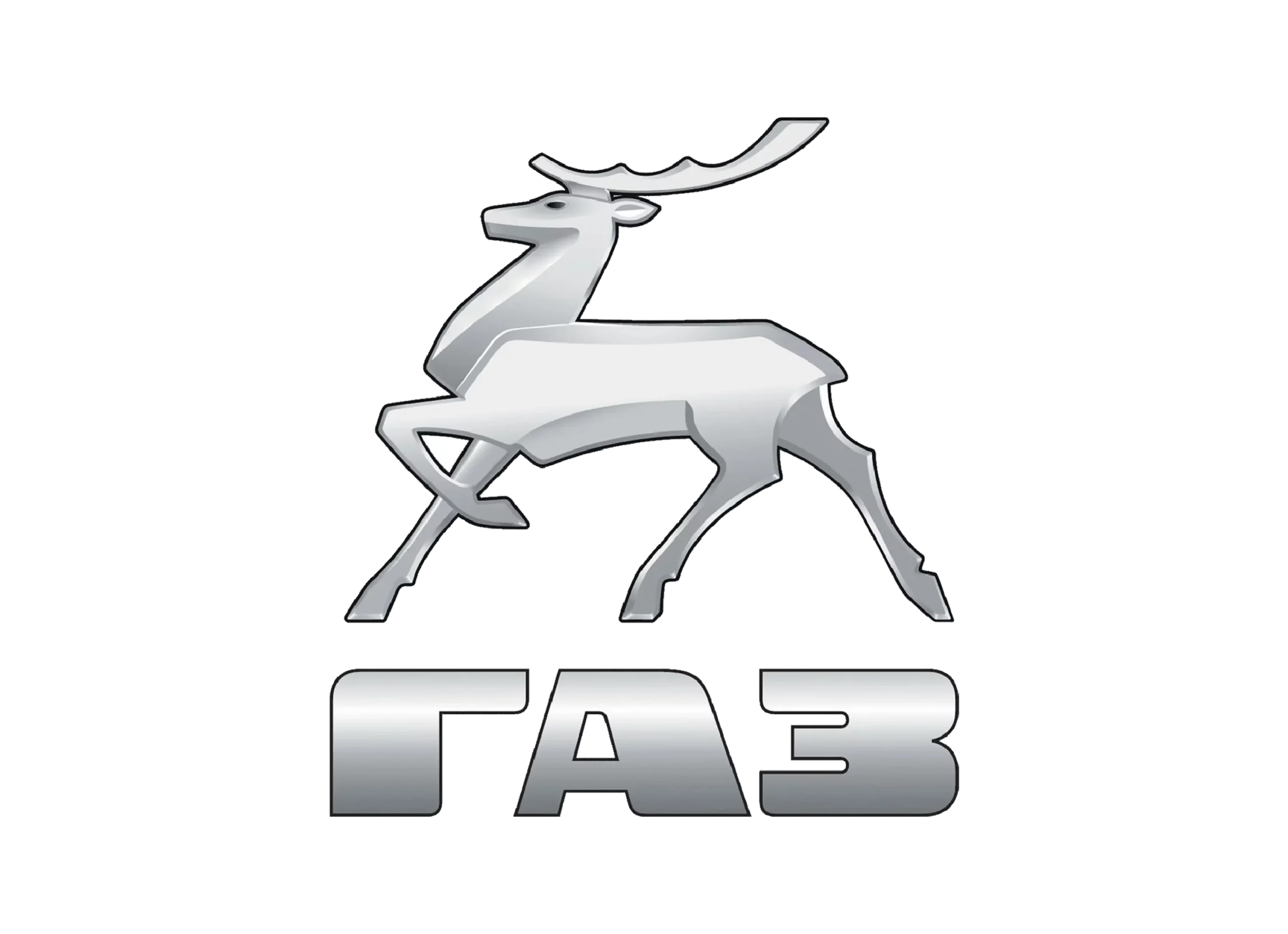 The current GAZ logo features the company name in capital letters, and on top  Deer. The logo has a silver or chrome finish, giving it a sleek and modern look. This design was introduced in 2015 and is meant to symbolize the company's dynamic growth and movement towards the future.
Nizhny Novgorod, NIZ, Russia
GAZ or Gorkovsky avtomobilny zavod is a prominent Russian car manufacturer located in Nizhny Novgorod. It was established in 1932 and was previously known as Gorky Automobile Plant. GAZ produces a range of automobiles, buses, trucks, and military vehicles. The company's history is closely linked to the Soviet era, and it played a vital role in supplying vehicles for the Red Army during World War II. After the war, GAZ shifted its focus to civilian vehicles and became one of the leading car manufacturers in the Soviet Union.
Today, GAZ is a subsidiary of the GAZ Group Holding, which is part of Basic Element industrial group. JSC Russian Machines is the controlling shareholder in OAO GAZ. The company produces a range of vehicles, including the iconic GAZelle commercial van, passenger cars like the GAZ Volga and GAZ-31105, and buses like the GAZ KavZ-685. The company has a significant presence in Russia and exports its vehicles to several countries in Europe, Africa, and Asia. With its long history and reputation for producing sturdy and reliable vehicles, GAZ is a well-known brand in Russia and other parts of the world.
GAZ, or Gorkovsky avtomobilny zavod, is a Russian automotive manufacturer with a rich history that spans over eight decades. The company has been producing cars, trucks, and buses since its founding in 1929 in the city of Nizhny Novgorod, which was then known as Gorky.
GAZ was originally established as an aircraft engine plant under the name GAZ-1, but it soon diversified into other areas, including the production of automobiles. The company's first passenger car, the GAZ-A, was produced in 1932 and became an instant success, with over 60,000 units sold within the first two years of production.
Throughout its history, GAZ has produced a variety of cars, trucks, and buses for both domestic and international markets. During World War II, the company played a crucial role in the Soviet Union's war effort, producing military vehicles, aircraft engines, and other vital equipment.
After the war, GAZ continued to innovate and expand, introducing new models and improving its production processes. In the 1950s, the company began exporting its vehicles to other countries, including Cuba, Egypt, and India.
In the years that followed, GAZ became known for its rugged and reliable trucks, which were used for a variety of purposes, including military, construction, and transportation. The company also continued to produce passenger cars, including the popular Volga model, which became a symbol of Soviet automotive engineering and design.
In the 1990s, after the collapse of the Soviet Union, GAZ underwent a period of restructuring and modernization. The company's focus shifted to the production of commercial vehicles, including buses and trucks, and it also began developing new partnerships with foreign automakers.
Today, GAZ remains one of Russia's largest automotive manufacturers, producing a wide range of vehicles for both domestic and international markets. The company's products are known for their durability, reliability, and versatility, and they continue to play an important role in the transportation industry both in Russia and around the world.
GAZ logo changes over the years